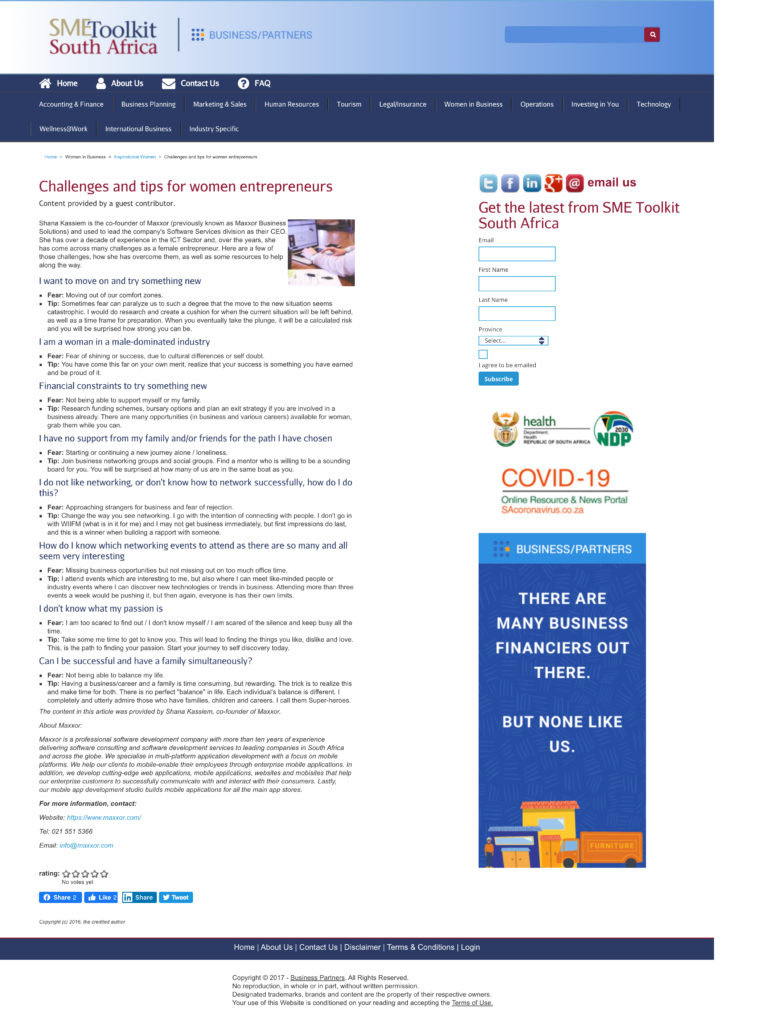 Shana Kassiem (Shana Kay Derman) is the co-founder of Maxxor (previously known as Maxxor Business Solutions) and used to lead the company's Software Services division as their CEO. She has over a decade of experience in the ICT Sector and, over the years, she has come across many challenges as a female entrepreneur. Here are a few of those challenges, how she has overcome them, as well as some resources to help along the way.
I want to move on and try something new
Fear: Moving out of our comfort zones.
Tip: Sometimes fear can paralyze us to such a degree that the move to the new situation seems catastrophic. I would do research and create a cushion for when the current situation will be left behind, as well as a time frame for preparation. When you eventually take the plunge, it will be a calculated risk and you will be surprised how strong you can be.
I am a woman in a male-dominated industry
Fear: Fear of shining or success, due to cultural differences or self doubt.
Tip: You have come this far on your own merit, realize that your success is something you have earned and be proud of it.
Financial constraints to try something new
Fear: Not being able to support myself or my family.
Tip: Research funding schemes, bursary options and plan an exit strategy if you are involved in a business already. There are many opportunities (in business and various careers) available for woman, grab them while you can.
I have no support from my family and/or friends for the path I have chosen
Fear: Starting or continuing a new journey alone / loneliness.
Tip: Join business networking groups and social groups. Find a mentor who is willing to be a sounding board for you. You will be surprised at how many of us are in the same boat as you.
I do not like networking, or don't know how to network successfully, how do I do this?
Fear: Approaching strangers for business and fear of rejection.
Tip: Change the way you see networking. I go with the intention of connecting with people. I don't go in with WIIFM (what is in it for me) and I may not get business immediately, but first impressions do last, and this is a winner when building a rapport with someone.
How do I know which networking events to attend as there are so many and all seem very interesting
Fear: Missing business opportunities but not missing out on too much office time.
Tip: I attend events which are interesting to me, but also where I can meet like-minded people or industry events where I can discover new technologies or trends in business. Attending more than three events a week would be pushing it, but then again, everyone is has their own limits.
I don't know what my passion is
Fear: I am too scared to find out / I don't know myself / I am scared of the silence and keep busy all the time.
Tip: Take some me time to get to know you. This will lead to finding the things you like, dislike and love. This, is the path to finding your passion. Start your journey to self discovery today.
Can I be successful and have a family simultaneously?
Fear: Not being able to balance my life.
Tip: Having a business/career and a family is time consuming, but rewarding. The trick is to realize this and make time for both. There is no perfect "balance" in life. Each individual's balance is different. I completely and utterly admire those who have families, children and careers. I call them Super-heroes.
The content in this article was provided by Shana Kassiem, co-founder of Maxxor.
About Maxxor:
Maxxor is a professional software development company with more than ten years of experience delivering software consulting and software development services to leading companies in South Africa and across the globe. We specialise in multi-platform application development with a focus on mobile platforms. We help our clients to mobile-enable their employees through enterprise mobile applications. In addition, we develop cutting-edge web applications, mobile applications, websites and mobisites that help our enterprise customers to successfully communicate with and interact with their consumers. Lastly, our mobile app development studio builds mobile applications for all the main app stores. 
For more information, contact:
Website: https://www.maxxor.com/
Tel: 021 551 5366
Email: info@maxxor.com
Original Article.